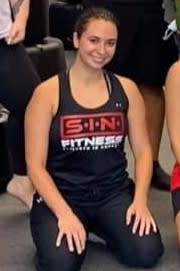 Kaylee Dietsch
Kaylee started at SIN Fitness as a member who fell in love with what SIN Fitness represented: growth, positivity, and togetherness.
Kaylee loved watching people reach their goals and eventually decided she wanted to be a part of other's fitness journeys, helping them reach their goals instead of only watching. Having a foundation of fitness with her background in competitive sports, she started her own journey to become a coach at SIN Fitness.
Since Kaylee has started, she has encouraged others to step out of their comfort zone and push themselves to new heights.
"I strongly believe that through exercise we not only strengthen our muscles but our minds as well. I have watched people come in on their worst days and after taking a class they thank me for helping turn their day around; that is the biggest reward for me as a coach.